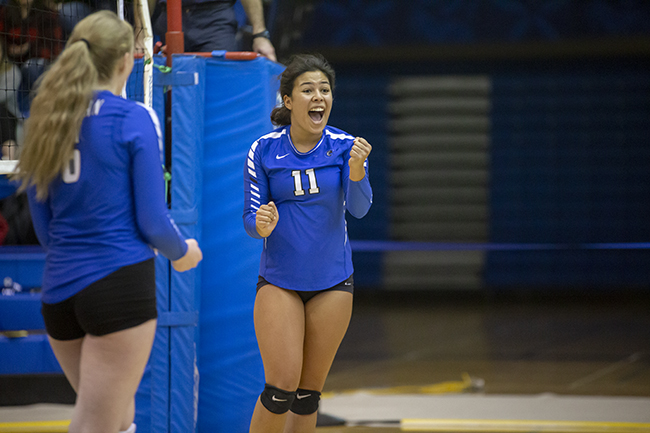 The Georgian Grizzlies women's volleyball team hosted the La Cite Coyotes in their final game of the first half of the season on Saturday afternoon at the Georgian Athletic Centre in Barrie.
The game was a thriller with the match going the full five sets.
After a tough start dropping the first set 25-12, the Grizzlies rallied back with a solid set win of 25-16. The rest of the game was incredibly tight with each team fighting for every point. The Coyotes were able to take set three 25-23 but the Grizzlies were able to rally back to take the final two sets 25-21 and 15-11 for an exciting 3-2 victory.
Domenica De Francesco (Barrie) had a great game recording 14 kills, two aces and a block for a 17-point game. Teammate Carina Brooks (Caledon) had 13 kills and 11 digs while Isabella Antonelli (Windsor) had a season-high with 11 kills.
The Grizzlies finish the first half with an impressive record of 6-3 which puts them in 4th place in the OCAA east division standings.
Georgian's volleyball team will now reset for the second half which will get underway in the new year with road games against Centennial (Jan. 14) and Canadore (Jan. 18).
The Grizzlies will play their next home game on Wednesday, Jan. 22 when they host the Seneca Sting at the Georgian Athletic Centre in Barrie. The women's game gets underway at 6 p.m. followed by the men's game at 8 p.m.